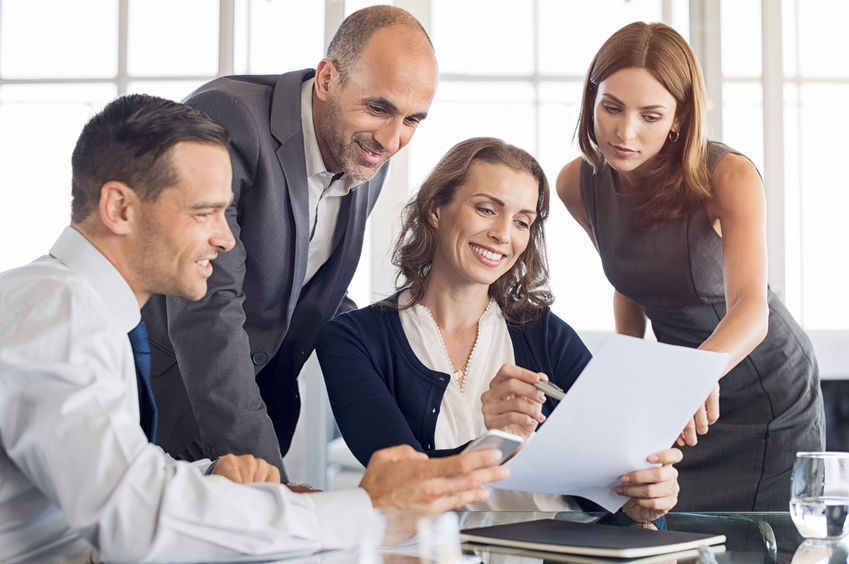 Understanding the Top 7 Elements of Business Architecture
Have you ever worked in a company whose upstream corporate vision consistently fails to be translated into actionable downstream objectives? Or maybe you've experienced different segments of an organization struggle to coordinate, and therefore miss critical opportunities and benchmarks.
In both of these far-too-common cases, the problems the businesses experienced could be avoided by understanding the business architecture—the underlying way the business is built and functions. In this article, we'll explain the ins and outs of business, and explore several of the elements business architects work to understand when helping corporations improve their processes and profitability.
What is Business Architecture?
While most formal definitions of business architecture are cluttered with business jargon, it's essentially exactly what it sounds like: the underlying structure of a business organization. It's the metaphorical blueprint of the business—how various parts come together, and how information flows from one area to the next. By studying different elements of business architecture, one can identify its strengths, weaknesses, and opportunities for improvement which, once implemented, can result in greater efficiencies and output.
Below are some of the most prominent elements of business architecture which we take into consideration when we are helping our clients.
Capability Management
A business "capability" refers to what, exactly, the company needs to do to execute its business strategy. Corporate capabilities can range from operational capabilities (like a car manufacturing system) to dynamic capabilities (the processes, routines, and behaviors that are unique to each business, like the product demonstration process).
The driving theory behind capability management is that organizations primarily compete over their capabilities to create and utilize knowledge. To put it in layman's terms, a popular soft drink's production and distribution processes are what enabled it to achieve market dominance, not the beverage's recipe.
Capability management, therefore, is the science of assessing a company's capabilities in order to ensuring its position within its industry and its ongoing profitability and likelihood for survival. A capability manager will help identify and eliminate inefficient capabilities that contribute low customer impact, and focus efficiencies in areas with high financial leverage.
Business Strategy
A business strategy, as you probably already know, is an outline of the actions and decisions a company plans to take in order to reach its business goals and objectives. The strategy is the fundamental resource that helps guide the company's decision-making process for critical endeavors, like hiring and resource allocation. A business strategy also helps different departments work together, ensuring that all departmental decisions are congruent in supporting the overall direction of the company.
Business architects may actually work with business leaders to help define and describe the business strategy, with the overall purpose of delivering a structured outline of the work that will be required to facilitate its implementation. Whether the company is new, or established, the business architect will help identify and articulate which investments will best support the organization's strategic objectives, and the various types of tradeoffs among proposed projects as they relate to the foundational strategy.
Benchmarking
You have probably heard the term "benchmarking" used before in business settings to describe key performance indicators (KPIs) and long-term goals. From a business architecture perspective, benchmarking is rather easy to understand; it's the process of measuring key business metrics and practices and comparing them against those of competitors, industry peers, and other companies around the world. Benchmarking can also be used to compare an organization with itself; for instance, how many sales were made in a previous year, compared to this year, or which branch delivered the best performance.
Regardless of who or what is being compared, the purpose of benchmarking is the same—understanding how and where the organization needs to change in order to improve its performance. Business architects focused on benchmarking will help you identify the strengths, weaknesses and success factors that are affecting your current performance levels.
Business transformation
A business transformation refers to any shift, realignment, or fundamental change in a business' operations, processes, people, or systems. Ideally, a business transformation will be executed with the goal of better aligning the company with its business strategy and vision. It may involve changes to the entire organization, or it may only apply to a specific function, such as IT, HR or Finance.
There are many reasons a business might consider undergoing a transformation. The most common include shifts within the market; low profits or high turnover within the company; a merger and acquisition; or changing technology. One of the most common business transformations occurring in this day and age is the adaptation of Cloud service technologies.
When businesses are interested in undergoing a transformation, they may engage a business architect to help educate and navigate their stakeholders through the process. The business architect typically plays a pivotal role in ensuring that the scope and objectives for the business transformation goals align with other elements of the business' architecture.
Business-IT Alignment
Most large organizations are divided into two separate areas: business, and IT. Unfortunately, this often leads to a disconnect between the organization's strategic goals and technological infrastructure. Business-IT Alignment seeks to correct this phenomenon, by matching the IT strategy with the overarching business strategy in order to maximize value. In layman's terms,
optimal Business-IT Alignment ensures that every penny spent on IT is in support of a business objective, and that the business is generating the maximum value possible from its IT investments.
A business architect engaged in Business-IT Alignment works to ensure that the IT systems match the business' strategy, mission, objectives, processes, infrastructure, and capabilities. They help the business create clear directives and quantifiable measurements that demonstrate IT's support of the outlined goals and directives. And, lastly, they ensure that once the business and IT alignment has been established, it doesn't disintegrate over time.
Business Improvement
Business improvement is a far-reaching topic that encompasses many theories and practices. Essentially, though, business improvement is the process of measuring, changing and measuring again to improve the revenue, efficiency and reputation of a firm. There are multiple sub-categories of business improvement, like
Process improvement: systemically optimizing an organization's underlying processes and procedures to achieve more effective results.
Performance improvement: Measuring the output of a particular business process or activity, and then morphing or manipulating that process to increase its output, efficiency, or effectiveness.
Management improvement: Improvements made to the leadership and control processes of a firm. This can include approaches like management training, or improvements made to internal controls, such as budget approvals.
Quality improvement: Improvements made to the firm's products, services, practices and miscellaneous deliverables.
Whichever improvements a firm is striving to implement, the business architect role is vital to the business improvement process. They help company leadership remain aware of the "big picture" when looking across multiple process improvement initiatives and provide a clearer picture of the capability gaps that must be closed in order to realize the organization's improvement objectives.
Distinctive Capabilities
A concept first pioneered by U.K. economist John Kay, the Distinctive Capabilities Framework is an assessment of the unique capabilities an organization has, which cannot be easily replicated by competitors. Examples of a distinctive capability might include a luxury car brand that has dominated the market for decades; a manufacturer that is able to produce a product at a great scale for a low cost base that competitors can't achieve; or a business that is able to innovate and adapt to changing markets much more rapidly than other firms in the same sector. It could also be something as simple as continued, stable relationships a business maintains with its suppliers, customers, shareholders, and employees.
Business architects assist in the process of identifying, building, and maintaining distinctive capabilities. Primarily, they investigate whether or not a business capability is providing tangible value or not to key stakeholders, and ensures that leadership does not concentrate resources on capabilities that generate little value.
Why Invest in Business Architecture?
In a world that changes constantly and rapidly (the most obvious example being the Covid-19 pandemic), business architects have never been more essential or necessary. Without an understanding of business architecture, companies struggle to adapt quickly and efficiently. And, as we have seen in this past year, companies that are not agile in today's fast-past, hyper-competitive marketplace cannot survive. Therefore, if you have not yet made business architecture a core part of your business strategy, now is the time to do so. To learn more about how our project development consultants help our clients develop a strong business architecture contact Arkiay Development Corporation click here.