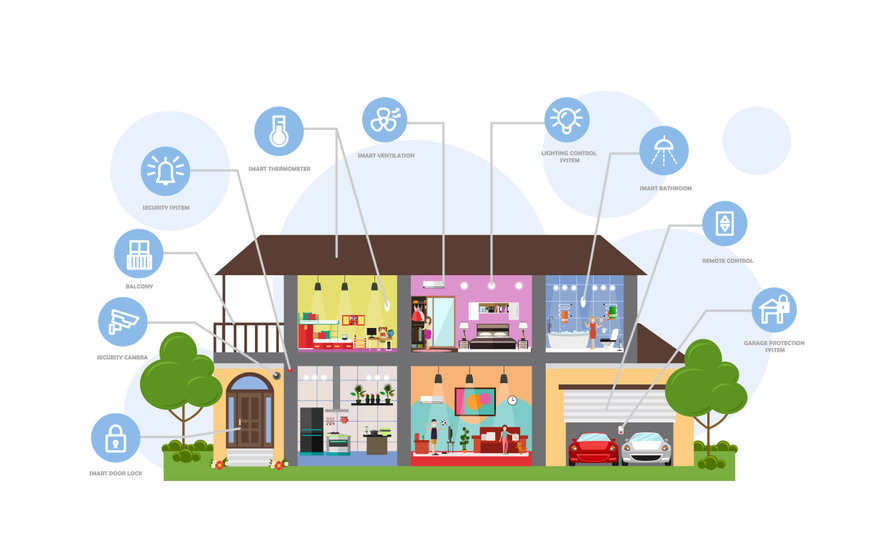 Interior Technology in Residential Construction
There are many new and exciting forms of technology being installed in residential construction projects. These technologies make the living experience better for the homeowners by allowing them peace of mind, saving on energy consumption, and making everyday tasks easier. Below we will look at some of the newest items on the market. Some of these can even be used in conjunction with others and are controllable from smart phones or tablets.
Smart Locks
Smart locks are door locks that can be controlled from anywhere in the world. You can ensure your house is secure while you are on vacation. No more turning around on your drive to work because you cannot remember if you locked your front door while leaving. The homeowner can simply pull up the smart lock app on their smart phone and verify the door is locked, and if it is not, they can lock the door from their phone.
Speakers and Lighting
Speakers and lights in a home is not a new idea. Homeowners have had them in their homes for years. What is new is these speakers and lights can be controlled by a smart phone or tablet. The lighting systems can be adjusted by the homeowner to ensure adequate lighting in the entire home. These systems can also be set to auto-adjust based on the amount of natural light coming in through the windows. This will keep the house at the proper lighting level and help control the energy consumption during daytime hours all on its own. The speakers and lighting can be set to work together so that the lights can change colors and "move" to the beat of the music. This is a great feature for get togethers with friends as it will really set the mood.
Smart Sensors
Smart sensors are electronic devices that can be connected to smoke detectors and will send signals to your phone and local 911 in the event of a house fire. This will potentially save lives and property with a quick alert time. This will help the homeowner both while they are home and in the event they are away. Without such sensors a fire occurring during a homeowner's absence might take many minutes before a neighbor sees the flames and alerts the authorities, thus causing more damage to the residence.
Air Purification Systems
COVID has brought out many new daily challenges even while enjoying your time at home. We are all more aware of the air we breathe and the potential for airborne illnesses and viruses. A new technology that is being installed in new home builds, as well as to existing homes, is Air Purification Systems. The technology in the air purification systems allows the homeowner to always check the air quality to ensure their family is breathing clear air. These systems can be programed to turn on and off on their own as needed to avoid running all day to save on energy consumption. They will alert the homeowner when it is time to change filters to ensure they operate as efficiently as possible.
There are many more technologies for your home available today and more continue to be invented daily. Arkaiy Development Corporation is well versed in all types of technologies for residential construction. When picking the right systems for your residence be sure to consult with an expert first, to ensure that you are taking full advantage of the products on the market and are having them properly installed and set up, so they are used to their fullest potential. Arkiay Development Corporation can help with all your technology needs within your existing or new built home.