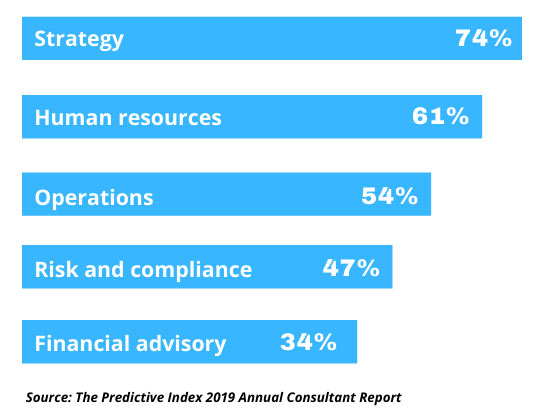 When to Hire a Business Consultant
As the business landscape continues to shift, it's important to know when and where to go for help. And it isn't just new business owners who require advice from a business consultant nowadays. Even seasoned business owners may find themselves in need of advice or guidance from a consultant, especially when tackling important business functions.
According to insights from The Predictive Index's annual consultant report, most businesses seek the expertise of consultants for one of these five reasons: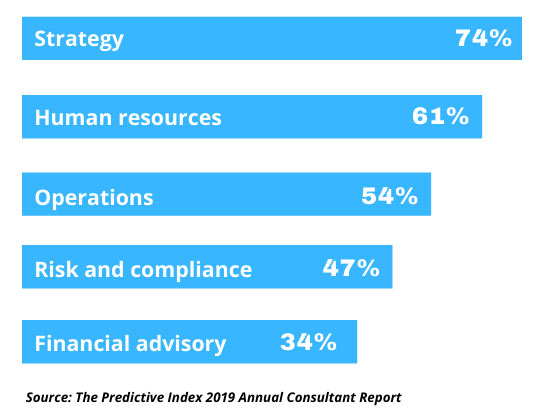 Next, we'll examine how a business consultant can help guide your organization's critical functions using their expertise and industry-specific knowledge. Keep in mind, we've chosen three categories from the list above (as identified by The Predictive Index report) but we'll close the list out with a few of our own, based on insights from this year.
Firms who specialize in strategy and management consulting will have a deep knowledge of the best practices for your industry as well as your specific market. If you're looking to make a large purchase, such as equipment or even acquiring another business, a strategy consultant should be on your list of must-haves.
These consultants will have a wider view of the market landscape, allowing them to give you expert insights on how to increase your organization's efficiency and cost savings.
Human resources include anything from talent acquisition, talent management, and employee learning. Most large organizations have a robust HR department responsible for recruiting and hiring, onboarding, learning and development, as well as compensation and performance management. These are all time-consuming and critical functions to the health of your business.
What's more is that many HR functions include compliance and regulatory guidelines that business owners aren't aware of. Human resource consultants can make sure you're following the local and federal laws for hiring or fair pay, to name a few.
For companies interested in restructuring or reorganizing their existing processes, an operations consultant is a valuable asset. Operations consultants specialize in helping organizations decrease inefficiencies, improving the quality of products or services offered, reducing errors, and increasing margins.
IT is one of the biggest areas of growth in business consulting right now. As the rapid pace of change continues, technology remains omnipresent in our working and personal lives. However, as the technology changes, so does the level of expertise needed to properly manage IT functions. These functions can include: upgrading servers or websites, integrating and/or improving computers and phone systems, IT security, and or general tech support.
For the average business owner, marketing and sales are time consuming endeavors that may also take a while to pay off. Marketing and sales consultants have the expertise required to analyze and create a plan that will position your brand in front of the right people at the right time. Ideally, a consultant who specializes in one or both of these categories will be able to help you: develop a buyer's journey, launch campaigns on multiple platforms (both paid and organic), and improve your sales process.
How Do You Know When to Hire a Business Consultant?
While the reasons why you should hire a business consultant may be easier to outline, knowing when to hire a consultant may not be as clear. Hiring a consultant at the right time can elicit a return on investment for your organization and have long-lasting benefits for your brand reputation.
The following are a few reasons why your company may need to hire a business consultant:
Lack of in-house expertise or resources. Perhaps you're ready to launch a LinkedIn advertising campaign but you don't have a dedicated social media marketing team. If this is out of your wheelhouse, but critical to your success, hire a marketing business consultant. They can help you manage the campaign and/or teach you the ropes for future campaigns.
Help with auditing operations. In order to make the right changes to your business, it's best to audit the current operations first. Knowing the most strategic way to reorganize or restructure will save you money and a headache in the long run.
Change is needed. Ready to execute changes, but not sure where to start, or how to overcome roadblocks? We recommend hiring an unbiased person to help you navigate changes that could shake up office politics—like headcount reduction or a modification to benefits.
Ready to take your business to the next level? Contact Arkiay Development Corporation for more information about when to hire a consultant and how we can help your organization thrive.